Estonian regulated exchange DX.Exchange announced the launch of a trading platform on which tokenized shares of top companies from the Nasdaq stock exchange listing will be quoted. At the same time, users will be able to purchase them both for cryptocurrencies and for Fiat. In addition, peering trading in digital currencies will be available at the site.
DX.Exchange uses a bidding and processing mechanism from Nasdaq to trade digital shares and prevent market manipulation. Users will acquire tokenized securities that will give them ownership of real shares. In this case, the ratio of the cost of tokens and the value of the shares will be 1: 1.
The purchase of real shares under the control of the Cyprus Securities and Exchange Commission will be the responsibility of MPS Marketplace Securities, Ltd. It will also generate the corresponding ERC-20 tokens.
Initially, the platform will feature AlphaBet, Apple, Amazon.com, Facebook, Microsoft Corporation, Tesla, Netflix, Baidu, Intel Corporation and Nvidia.
At the same time, DX.Exchange uses the DIX protocol from Nasdaq to provide electronic communication between the parties to the transaction. We add that the platform also concluded a partnership agreement with Bloomberg.
The launch of DX.Exchange is scheduled for January 7th.
It should be noted that an open letter from Apple CEO Tim Cook on the eve provoked a sharp drop in the company's shares, knocking it out of the three leaders in capitalization.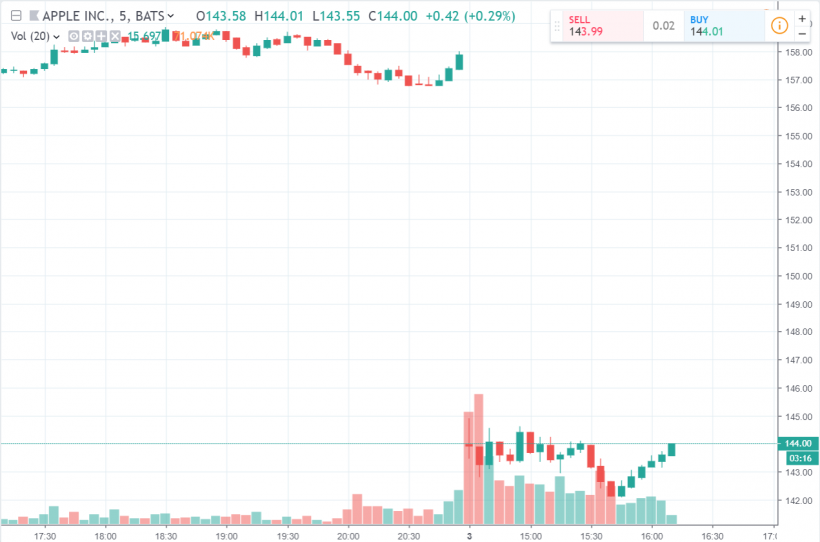 Recall that in June 2018 it became known that the number of registered DX.Exchange users exceeded 500 thousand.
Previously, Nvidia's shares in just two months sank by almost 50%. One of the reasons for this was a sharp decline in demand for video cards among cryptocurrency miners.
Also against the company is preparing a class action lawsuit for the alleged introduction of the market and shareholders misleading.